BVI SCUBA DIVING LIVE ABOARD
The phrase "Live Aboard Dive Boat" conjures up visions of a dozen people crowded onto a tiny boat with little to do other than diving. In the British Virgin Islands, our live aboard dive boat would best be described as a "Floating Dive Hotel".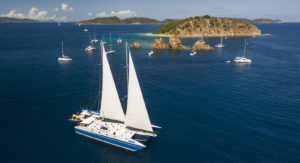 We cater to those who enjoy the comfort and amenities that would normally be expected at a luxury resort. Gourmet meals, large staterooms with full sized beds, air conditioning, pampered guests and a leisurely pace are the norm while sailing the waters of the British Virgin Islands. The diver, the non-diver and the entire family will all have a great time enjoying our waters.
Our guests will enjoy all types of activities while aboard: Scuba, snorkelling, sailing, water skiing, and kayaking are just a few of our offerings. Want to visit one or more of the many islands in the BVI? That's no problem when the Caribbean Sea is just outside of your stateroom.
Our yacht is equipped with an onboard compressor, tanks and full dive gear. There's no problem charging your strobe or other batteries in between dives. In case of emergency, we have onboard oxygen, first aid, cellular telephone and a marine radio.
Whether you are one person or a group of twenty, we invite you to come aboard and make yourself comfortable in our floating living room. We know that you will have a great time
Our live aboard Dive Operators Organization member, Cuan Law is based out of Tortola and invites you to tour our sites. Feel free to ask us any and all questions that you may have about spending some time sailing and diving our back yard.
LOCATION
The heart of any ship is its crew and this is even more important in a Floating Hotel. All our crew are very energetic and fun loving with a great service attitude. They have their individual specialties but all pitch in as a team and cover for each other. We normally carry a crew of seven: Captain, Chef, Engineer, First Diver, Second Diver, and two Stewards or Stewardesses.