Cuan Law
The Cuan Law is the largest sailing trimaran in the world, and she's not like any other live-aboard dive boat you've encountered – a floating "dive hotel" is the best description.
Custom designed for luxury live-aboard diving and sailing by owner/designer Duncan Muirhead in 1988, Cuan Law spans 105 feet in length and 44 feet in width. Two 110′ masts spread 5,200 square feet of sail over the massive deck. Her size and the tri-hull design provide extreme stability, both at anchor and while underway. The seven crew members will make you feel right at home the minute you step foot onboard.
VIEW WEBSITE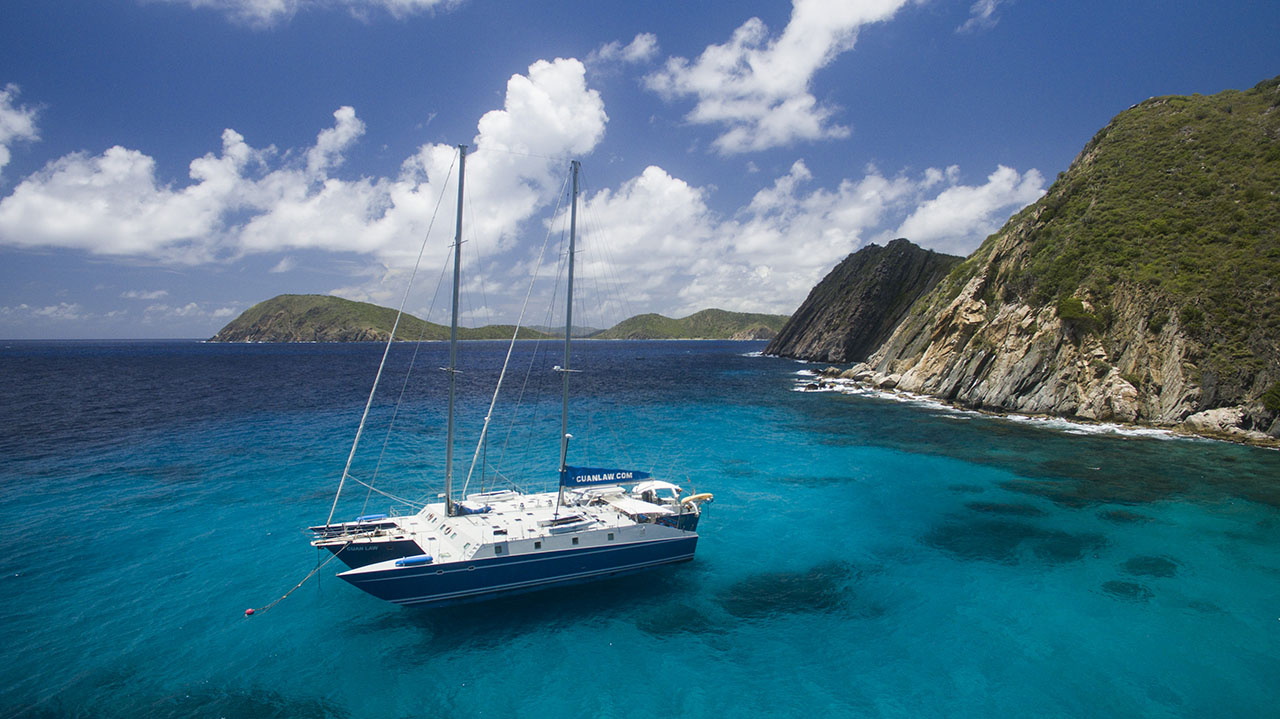 Spectacular diving, exhilarating sailing and island exploration are just part of your holiday adventure.
Our philosophy is to provide our guests with unusual, varied and challenging dives, but to arrange them in such a way that they are safe and well organized. We specialize in diving remote and unusual places, and putting together a series of dives where each is special in its own way and different from all the others. We can do this because of our many years of continuous exploration of the Virgin Islands underwater world and because we make extensive use of our two 85-hp 20-foot ridged hull inflatables to reach sites undiveable by any other means.
Guests aboard Cuan Law handle their tanks as little as possible. Set up your tank for the first dive and the crew handles it from there. You simply step up to the waist-high tank deck, where a crew member has your tank waiting for you to slip into your BC. From there you either giant stride off the aft deck or board the inflatable. After the dive you step up to the tank deck and your tank is taken by the crew to be filled for the next dive and stored out of the way – almost like checking your coat at a fine restaurant. Tanks with BCs and regulators in place are stored on the back aft deck out of view of the canopied aft deck. Masks, snorkels and dive accessories are stored conveniently in dive bins located under the seating area which keeps the dive deck from becoming cluttered. Cuan Law also has Nitrox and now offers Nitrox certification courses.
Cuan Law is the perfect match for divers with non-diving family members. There are plenty of other activities to keep you active above the water and in the water when you're not under the water. Sailing, kayaks, water skiing, sunbathing, and island excursions are just a few of the offered topside activities.
The accommodations aboard Cuan Law are spacious and comfortable. There are ten double staterooms, each can be set up to suit your needs with a double bed or twins, side by side. You won't find cramped bunk beds aboard Cuan Law and you've got plenty of walking around space. The cabins are fully air-conditioned, with a thermostat in each so you can dial in the exact temperature you want. Outside windows and overhead hatches give you the option of natural ventilation, along with splendid views. All staterooms have a private bathroom with shower and a toilet that works just like the ones back home — no marine heads here, so you don't have to worry about which valve or lever to push first. There is a standard 110 outlet, and every bathroom contains an overhead hatch, which helps eliminate the claustrophobic feeling you can get in the bathrooms on some boats.
Spectacular diving, exhilarating sailing and island exploration are just part of your holiday adventure. The fun-loving professional crew will spoil you with individual attention. Inspired meals, featuring international cuisine and select wines, will be graciously served on the covered aft deck. You will make friends and memories to last a lifetime
LOCATION
The heart of any ship is its crew and this is even more important in a Floating Hotel. All our crew are very energetic and fun loving with a great service attitude. They have their individual specialties but all pitch in as a team and cover for each other. We normally carry a crew of seven: Captain, Chef, Engineer, First Diver, Second Diver, and two Stewards or Stewardesses.