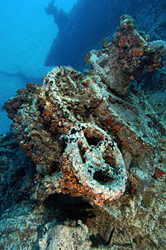 Chikuzen was a 246 foot Korean refrigerator vessel based in St. Maarten to service big Japanese fishing fleets. It was early in 1981 when a hurricane was approaching St. Maarten. The government told the owners to move the decrepit ship so it wouldn't sink in the harbor or damage the docks. The owners thought this would be a good chance to get rid of the ship once and for all. So they set it on fire and sent it adrift, hoping it would sink just offshore. The plan went wrong and Chikuzen kept floating towards the Marina Cay area. Yacht and diving companies feared for Marina Cay's anchorage so local operators tried to fend off the ship with dive boats. This was unsuccessful. Finally, ocean going tugs were called from St. Croix and Antigua. When they arrived they were able to attach a line to pull the ship away from the islands. The line broke, badly injuring a crew member who had to be airlifted to the nearest hospital. They decided to call it a day and let nature take its course.
The smoldering Chikuzen sunk about 7½ miles northwest off Tortola. The wreck is too far out for most local shore based operators to get to. Cuan Law is the only dive boat who regularly visits this site. Diving the Chikuzen is not always possible because of its exposed location but this is a wonderful dive if the conditions are right.
She now serves her new purpose attracting an assortment of both pelagic and reef fish and is an excellent wreck for almost any level diver. The wreck of the Chikuzen rests in 75 feet of water far from any reef, attracting marine life like an oasis in the desert. The ship is on its port side with the starboard rail reaching up to about 50 feet. Except for the pilothouse, most of the ship is intact, with three large cargo holds that can be entered through open hatches.
The hull is well covered with coral and sponge growth. The possibility of encountering big pelagics such as sharks and rays is always high. In fact, one of the few Whale Shark encounters in the British Virgin Islands occurred here during a Cuan Law dive.
Text extracted from The Guide to Diving and Snorkeling in the British Virgin Islands by Jeff Williams, Ria O'Hagan.